Why switch from AutoCAD to AutoCAD Electrical?
What is AutoCAD Electrical

AutoCAD Electrical is a "flavored" version of AutoCAD for designing electrical control systems – it optimizes the creation of "ladder" electrical diagrams and interpolation wiring diagrams. AutoCAD Electrical is built on VIA Technologies (now part of Autodesk).
In addition to AutoCAD features, AutoCAD Electrical offers a set of electrical tools for automating wire numbering, part marking, project listing, and creating PLC I / O drawings from tables. AutoCAD Electrical also cross-references contact fields, including usage tracking, and generates inspection reports to alert you to design errors.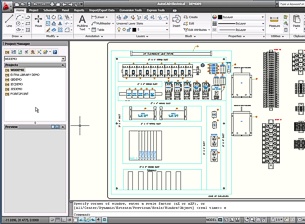 You can easily share your configuration files, vendor catalog files, component definitions, and PLC data files over the network. AutoCAD Electrical does not use any special objects, so you can open its drawings in AutoCAD and AutoCAD LT. When you reopen the drawing in AutoCAD Electrical, it notifies you of any changes made. You can also share data with Inventorem Professional. In addition to the library of electro-symbols, AutoCAD Electrical also contains libraries of hydraulic, pneumatic and process (P&ID) symbols – a total of over 350,000 blocks from the world's leading manufacturers.
AutoCAD Electrical includes an integrated Autodesk Vault for document management, cable information can be transferred to Inventor Professional's 'Cables and Harnesses' module, and includes all AutoCAD features.
AutoCAD Electrical এর উপর শেখার সবচেয়ে সমৃদ্ধ বাংলা অনলাইন কোর্স করতে ভিজিট করুনঃ https://eab.com.bd/course/autocad-electrical/
Why switch from AutoCAD to AutoCAD Electrical?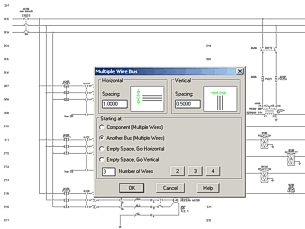 When designing machines and products, electrical elements are an important part of the design process. With AutoCAD Electrical, you don't have to manually create wiring diagrams – you get the tools for faster and more accurate documentation of industrial control systems.
Extensive symbol library – AutoCAD Electrical contains over 750,000 symbols of electrical and pneumatic equipment and components (buttons, indicators, relays, contacts, fuses, valves, controllers …)
Automatic Wire Numbering – AutoCAD Electrical automatically numbers wires and identifies components to eliminate the risk of errors and save you work
Report generation – Save time, from BOMs to link lists, with automatic report generation and reports
Using existing drawings – you can easily take over parts of existing drawings or frequently used circuits, you can relabel all existing components with one command
Contact cross-references – the program generates real-time cross-references of contact fields and thus saves inspection time, solves contact dependencies and allowable number of contacts for a given component
Smart Deployment Panel Drawings – After completing the schematic design phase, AutoCAD Electrical creates a list of components for deployment – you can check the timeliness of the schematic drawing and layout on an ongoing basis
Specific electrical tools – AutoCAD Electrical offers tools designed specifically for drawing electrical drawings – speeds up work with commands such as cutting a wire, copying a circuit, etc.
Generating PLC drawings from tables – AutoCAD Electrical can generate I / O PLC drawings from data in Excel tables – completely including designations, numbering, addresses, I / O modules and part symbols
Sharing drawings with customers – you can easily share drawings from AutoCAD Electrical directly in DWG format – they can be edited in any AutoCAD or AutoCAD LT. The program can create an overview of changes made since the drawing was submitted.
Support for Many Standards – AutoCAD Electrical supports JIC, IEC, JIS, and GB design standards – so you can create documentation according to customer requirements
AutoCAD Electrical এর উপর শেখার সবচেয়ে সমৃদ্ধ বাংলা অনলাইন কোর্স করতে ভিজিট করুনঃ https://eab.com.bd/course/autocad-electrical/